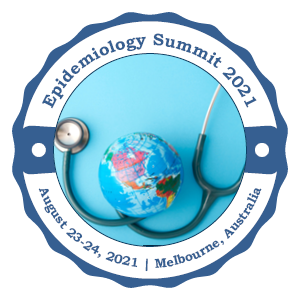 Event Description
10th International Conference on Epidemiology & Public Health 2021 Melbourne Australia
EPIDEMIOLOGY SUMMIT 2021 Conference includes prompt keynote presentations, oral talks, poster presentations, delegate views, board talks, workshop and exhibitions. Join us for the intensive and interesting days of discussing contemporary challenges and new advancements in Epidemiology and Public Health. We invite you to contribute and help to shape the event through submissions of your research abstracts, papers and e-posters. Also, high quality research contributions describing original and unpublished results of conceptual, constructive, empirical, experimental, or theoretical work in all areas of Public health research are cordially invited for presentation at the conference.
In addition to the informational speakers, you will get an opportunity to interact with and learn from our Business Partners, Exhibitors, and Sponsors. Also, you will get an opportunity to speak with them and personally evaluate if they can be helpful to our practices. And then there are our peer the opportunities to get to know them and learn from each other during networking breaks.
So, bookmark the dates: August 23-24, 2021; we assure you that EPIDEMIOLOGY SUMMIT 2021 would be a great learning and knowledge sharing experience. Keep your eyes peeled for more evidence to trail.
Event Types (Select all that apply)
Event Registration Contact Email
epidemiology@globalconferences.net
Event Information Contact Email
epidemiology@globalconferences.net
Exhibits
10th International Conference on Epidemiology & Public Health 2021 Melbourne Australia
Abstract Submission Deadline
Abstract guidelines
10th International Conference on Epidemiology & Public Health 2021 Melbourne Australia
We warmly welcome all researchers, students, and epidemiology experts to take part in this upcoming epidemiology congress to witness invaluable scientific discussions and contribute to future innovations in the field of Epidemiology and Public Health. EPIDEMIOLOGY SUMMIT 2021 will focus on the latest and exciting innovations in all areas of Epidemiology which offers a unique opportunity for all epidemiology professionals across the globe to meet, network, and perceive new scientific innovations.
This symposium comprises workshops, symposiums, special keynote sessions accompanied by eminent and renowned speakers who excel in the field of Epidemiology which include: Methodological innovations, Addressing public health problems throughout the world using epidemiology, Big data, data science and linked data, Precision prevention and screening, Causal thinking in epidemiology, New advances in study designs, Innovations in data collection and measurement, such as wearable technologies, New technology, and methodology for applicant recruitment and retention, Evidence-based medicine/clinical practice, Evidence-informed health policy, Epidemics, and other global health emergencies, Social epidemiology and inequities, Genetic and molecular epidemiology, Climate change, Patient and public engrossment in epidemiology studies.