13th World Congress on Anesthesiology and Critical Care 2020 Tokyo Japan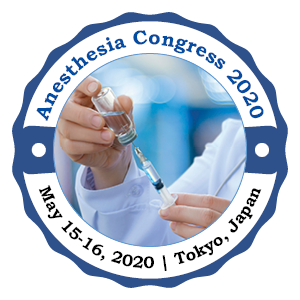 "13th World Congress on Anesthesiology and Critical Care" which is going to be held during May 15-16, 2020 in Tokyo, Japan mainly focuses on two key topics viz. Anesthesia and Critical Care with the basic theme "Boosting the Therapy Concerning Anesthesiology and Critical Care". 
Anesthesia Congress 2020 provides you with valuable accretion for your work. At Anesthesia Congress 2020, Attendees will pick up the chance to learn and get advancements about the current information in Anesthesiology Explore the trends regarding Anesthesia, Critical Care and discover the results regarding your greatest challenges and share the information back to your physicians for a more informative discussion This is an international meeting where Anesthesiologists, Pediatric Anesthesiologists, Veterinary Anesthesiologists, and all the medical professionals can meet their colleagues from across the globe in building their network, to achieve leadership and management skills, to develop analytical and research skills.
Why Attend?
13th World Congress  on Anesthesiology and Critical Care is the leading conferences of the World united by a recognized academician in the field of Anesthesiology, critical care researchers, educators, health professionals, professors, academic scientists, industry researchers from across the globe
 which is an exclusive platform for sharing the knowledge and information and B2B gatherings with industrialists and potential clients to make a sprinkle and mark acknowledgment on this occasion. Latest improvements in Advanced Anesthetic Care and Critical Care can be discussed and it will give an exceptional opportunity to the individuals by
Keynote gatherings by Prominent Professors, Doctors

Poster/Oral presentations by Young Researcher

Novel procedures to profit your research

Addresses from prestigious speakers

Excellent platform for Global business and Networking openings

Meet the editors of refereed journals, Societies and Association applicants over the Globe

Target Audience
Anesthesiologists

Surgeons

University Professors

Various Societies and their members

Institutes-Medical Schools Students

Research Scholars

Business Entrepreneurs

Training Institutes

Manufacturing Medical Devices Companies

Nurses

Surgical tool technicians

Pharmaceutical Industries

Healthcare Industries