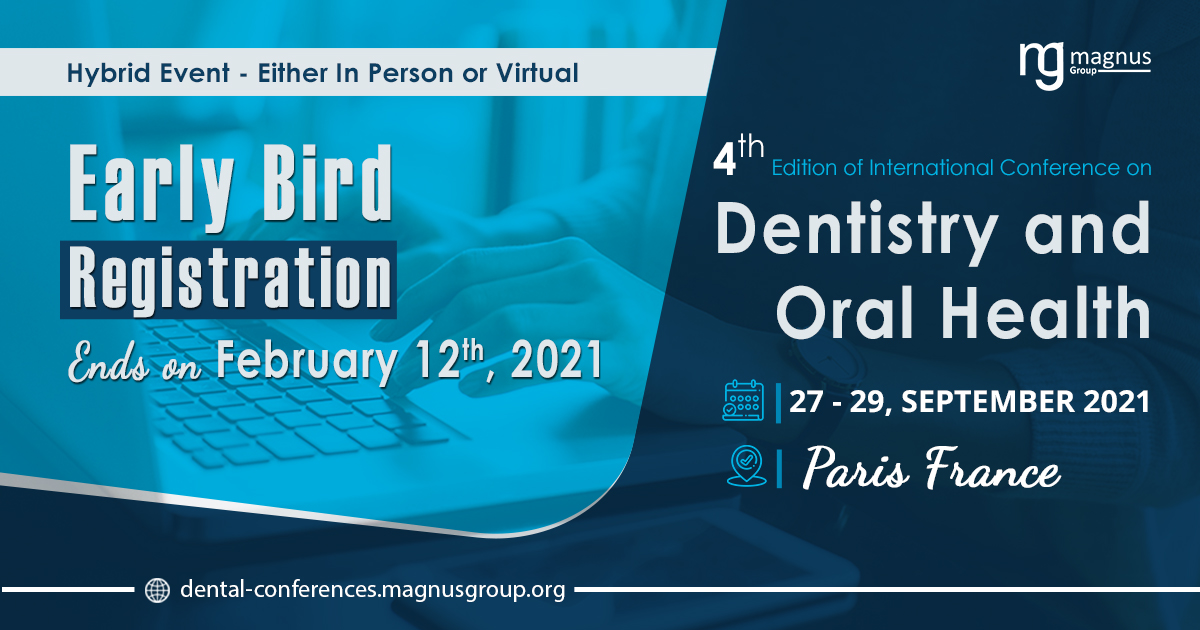 Event Description
4th Edition of International Conference on Dentistry and Oral Health 2021 Paris France
After successful completion of 03 Editions, here we are with "4th Edition of International Conference on Dentistry and Oral Health" (ICDO 2021) during September 27-29, 2021 at Paris, France which is going to be conducted as Hybrid Event and allows you to participate as In Person or Virtually  from your work/home

ICDO 2021 will showcase the best in dental innovation and education from the front lines of technology. It is designed to serve the entire dental field and Improves patient outcomes through high quality continuing education opportunities, and information conveyed by expert keynote speakers.  
Join this Dentistry conference 2021 and earn CE credits.
Learn about the Advanced techniques to diagnose, treat and prevent the dental and oral health issues. ICDO 2021 is going to give the incredible scope of learning to grow.
 
For registration/tickets purchase:
https://dental-conferences.magnusgroup.org/register
Event Types (Select all that apply)
Medical Conference
Online Medical Event
Event Registration Contact Email
dental@magnusmeetings.com
Event Information Contact Email
dental@magnusmeetings.com
Exhibits
2500$
,
4th Edition of International Conference on Dentistry and Oral Health 2021 Paris France
Abstract Submission Deadline
Abstract guidelines
about 250 - 500 words
Explain how the audience will be able to use what they learn
Presentation Category: (Oral/Poster Presentation)
Session Name:
Email:
Alternative email:
Contact Number:
Twitter/Facebook/LinkedIn: