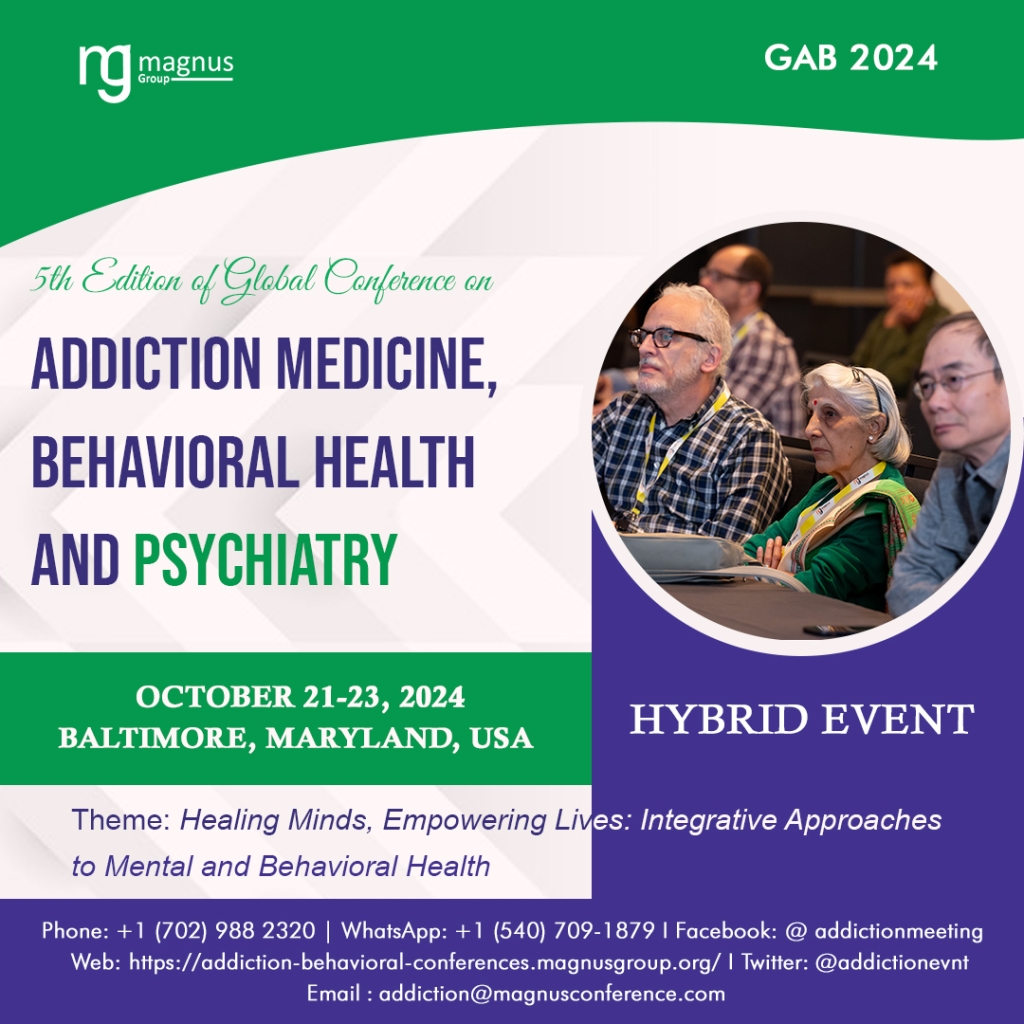 Event Description
5th Edition of Global Conference on Addiction Medicine, Behavioral Health and Psychiatry 2023 Baltimore United States
Building on the resounding success of the four previous addiction medicine and psychiatry conference series, Magnus Group proudly presents the "5th Edition of Global Conference on Addiction Medicine, Behavioral Health And Psychiatry". This prestigious event is scheduled to take place from October 21-23, 2024, in Baltimore, Maryland, USA, with a virtual component. The overarching theme for Addiction Conferences 2024 revolves around "Healing Minds, Empowering Lives: Integrative Approaches to Mental and Behavioral Health."
Renowned for its dedication to aiding individuals in overcoming addiction and reclaiming a fulfilling life, this Behavioral Health Conference serves as a prominent platform. It brings together a diverse array of participants, including researchers, scientists, psychiatrists, neurologists, healthcare professionals, therapists, students, and caregivers. These individuals share a common interest in practical, evidence-based approaches, personal narratives, and the latest research breakthroughs related to substance abuse, addiction, gambling-related harm, and other behavioral addictions.
With a core emphasis on advancing excellence through exploration in addiction medicine, behavioral health, and psychiatry, the Psychiatry Conferences aims to establish a collaborative and communicative space for leading researchers, academics, scientists, educators, psychiatrists, addiction medicine specialists, therapists, and healthcare experts worldwide. Together, they will delve into pressing issues and research findings in the fields of addiction medicine, behavioral health, and psychiatry while seeking fresh avenues to enhance existing ones.
Addiction Conferences 2024 | Psychiatry Conferences | Behavioral Health Conference | Addiction Medicine Conference | Drug Abuse Events | Drug Addiction Meeting. Global Addiction Conferences | Behavioral Health Symposium | Baltimore Addiction Symposium | USA Psychiatry Conference | Addiction Medicine Workshop | Behavioral Health Interventions | Psychiatry Research Forum | Substance Use Disorders Conference | Dual Diagnosis Conference | Global Mental Health Forum | Addiction Awareness Summit | Addiction Medicine Congress | Behavioral Health Expo | Psychiatry Symposium | Rehabilitation Colloquium | Drug Abuse Seminar | Addiction Treatment Forum | Addiction Recovery Gathering | Mental Health Convention | Substance Abuse Workshop | Top Addiction Conferences | Best Behavioral Health Conferences | Emerging Psychiatry Conferences | Leading Rehabilitation Summits | Premier Drug Abuse Conventions | Innovative Mental Health Gatherings | Global Substance Addiction Symposium | International Addiction Treatment Expo | Behavioral Health Seminar | Addiction Medicine Summit USA | Addiction Treatment Expo | Rehabilitation Forum | Drug And Alcohol Congress | International Behavioral Health Conference | Substance Addiction Webinar | Emerging Addiction Treatment Colloquium | Leading Mental Health Expo | Premier Substance Abuse Forum | Innovative Addiction Medicine Symposium | Top Rehabilitation Summit | Global Addiction Recovery Seminar | Behavioral Health Innovation Colloquium | Substance Abuse Treatment Expo | Addiction Awareness Symposium | Mental Health Integration Summit | International Addiction Prevention Congress | Emerging Drug Abuse Forum | Premier Psychiatry Workshop | Addiction Medicine & Mental Health Seminar | Top Addiction Recovery Conference | Addiction Treatment Conferences 2024 | Addiction Congress 2024 | Mental Health Conferences 2024 | Drug And Alcohol Conferences 2024 | Mental Health Workshops 2024 | Addiction Congress 2024 | Substance Abuse Conference 2024 | Addiction Medicine Conference 2024

For registration/tickets purchase:
https://addiction-behavioral-conferences.magnusgroup.org/register
Event Types (Select all that apply)
Event Registration Contact Email
addiction@magnusconference.com
Event Information Contact Email
addiction@magnusconference.com
Abstract Submission Deadline
I agree with the terms and conditions
On