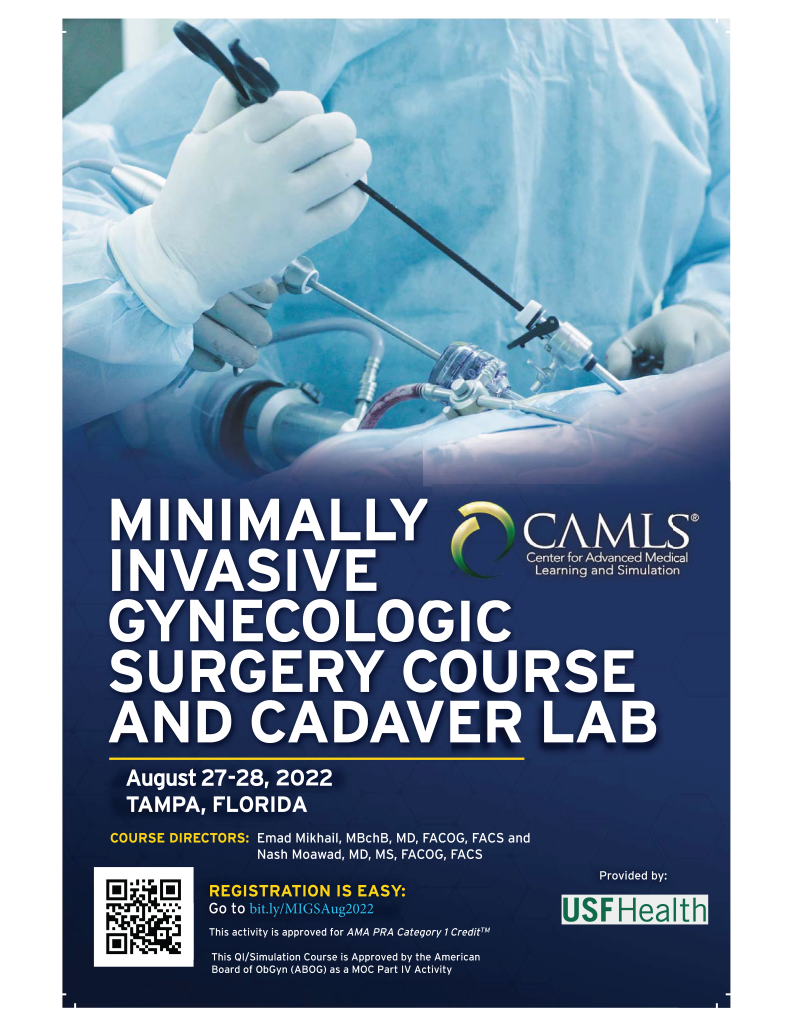 Event Description
Minimally Invasive Gynecologic Surgery Course and Cadaver Lab 2022 Tampa United States
The minimally invasive surgery course is a cadaver based, hands-on educational course for gynecologic surgeons who desire to advance their skills and knowledge in laparoscopic surgery. Participants will learn and practice surgical techniques for efficient and safe total laparoscopic hysterectomy and advanced pelvic dissection. A laparoscopic suturing lab will be available throughout the entire course for participants to practice the skills of laparoscopic suturing and knot tying. The course will also cover laparoscopic surgical dissection, effective use of laparoscopic instrumentation, electrosurgery and prevention and repairing of incidental bladder and bowel injuries.
Upon completion of this seminar, the participants should be able to:

- Describe pelvic anatomy as it relates to Gynecologic Minimally Invasive Surgery.
- Select appropriate surgical techniques and instrumentation for use in Gynecologic Minimally Invasive Surgery.
- Apply the skillset needed to efficiently perform laparoscopic suturing and knot tying.
- Demonstrate the skills and techniques necessary to perform complex benign gynecologic surgery.
- Apply skills needed for management of complications including the basic steps of laparoscopic bladder and bowel injury repair.
- Demonstrate techniques utilized in pelvic sidewall dissection required in advanced endometriosis surgery.
For registration/tickets purchase:
https://cmetracker.net/USF/Publisher?page=pubOpen#/EventID/353047/
Event Types (Select all that apply)
Medical Meeting
Medical Conference
Medical Educational Courses
Event Registration Contact Email
Fwhitaker@usf.edu
Event Information Contact Email
Fwhitaker@usf.edu
CME Credit Fall Under
10-20
Abstract Submission Deadline
Abstract guidelines
Minimally Invasive Gynecologic Surgery Course and Cadaver Lab 2022 Tampa United States
We are not accepting external abstracts