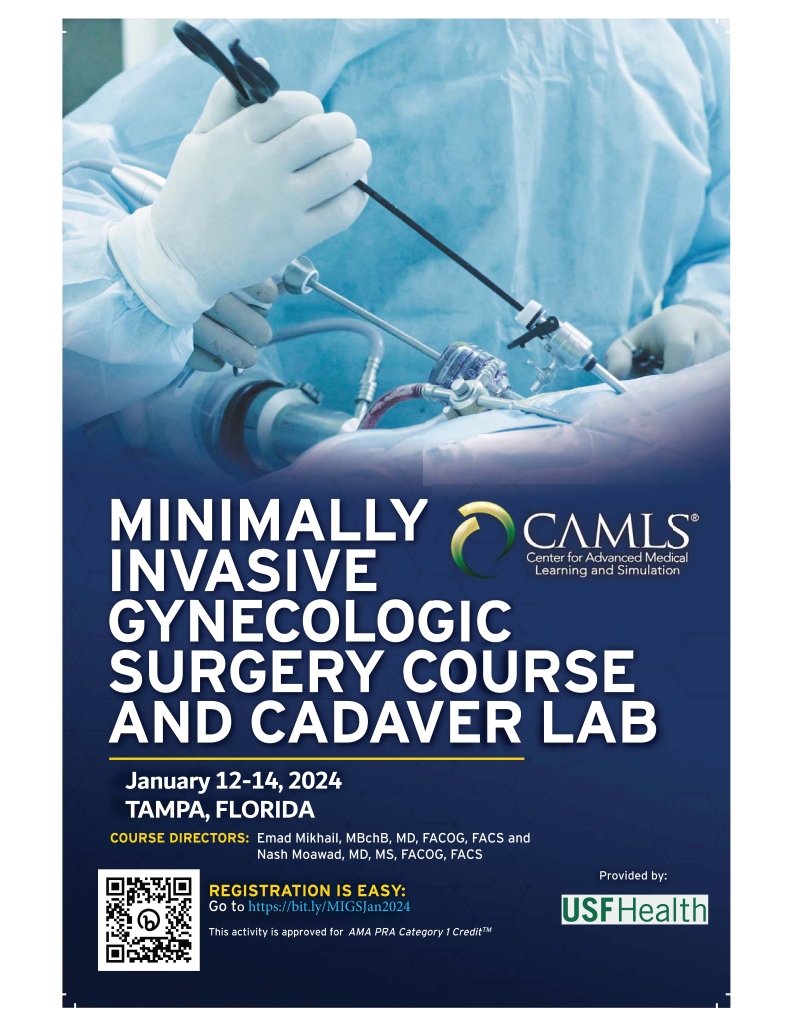 Event Description
Minimally Invasive Gynecologic Surgery Course and Cadaver Lab - Featuring an optional Hysteroscopy dry lab 2023 Tampa United States
The minimally invasive surgery course is a cadaver based, hands-on educational course for gynecologic surgeons who desire to advance their skills and knowledge in laparoscopic surgery. Participants will learn and practice surgical techniques for efficient and safe total laparoscopic hysterectomy and advanced pelvic dissection. A laparoscopic suturing lab will be available throughout the entire course for participants to practice the skills of laparoscopic suturing and knot tying. The course will also cover laparoscopic surgical dissection, effective use of laparoscopic instrumentation, electrosurgery and prevention and repairing of incidental bladder and bowel injuries.
Upon completion of this seminar, the participants should be able to:
- Describe pelvic anatomy as it relates to Gynecologic Minimally Invasive Surgery.
- Select appropriate surgical techniques and instrumentation for use in Gynecologic
Minimally Invasive Surgery.
- Apply the skillset needed to efficiently perform laparoscopic suturing and knot tying.
- Demonstrate the skills and techniques necessary to perform complex benign gynecologic
surgery.
- Apply skills needed for management of complications including the basic steps of
laparoscopic bladder and bowel injury repair.
- Demonstrate techniques utilized in pelvic sidewall dissection required in advanced
endometriosis surgery.
JANUARY 12, 2024 PRECONFERENCE WORKSHOP - HYSTEROSCOPY DRY LAB
This half day hysteroscopy course consists of high-yield, fast paced didactic lectures, followed by hands-on dry lab on office hysteroscopy, polypectomy, myomectomy, resectoscopy, tissue removal systems and fluid management. This course is designed for gynecologic surgeons who desire to advance their skills and knowledge in hysteroscopic surgery and add office hysteroscopy to their practice. Participants will learn the essentials of office hysteroscopy, visual biopsy, hysteroscopic polypectomy and myomectomy. The course will only focus on building diagnostic skills to add this valuable tool to your practice. In addition, the course will update you on new trends such as hysteroscopic management of retained products of conception (RPOC), avoiding blind procedures, as well as prevention and management of hysteroscopic complications.
Upon completion of Hysteroscopy dry lab course, the participants should be able to:
- Describe the steps needed to build a successful office hysteroscopy practice
- Select appropriate instrumentation for use in operative hysteroscopy.
- Demonstrate the skills and techniques necessary to perform operative hysteroscopy for
AUB, polyps, fibroids & RPOCs.
- Apply the skills needed to minimize and manage hysteroscopic complications
For registration/tickets purchase:
https://cmetracker.net/USF/Publisher?page=pubOpen#/EventID/355451/
Event Capacity
40 physicians
Event Types (Select all that apply)
Event Registration Contact Email
Fwhitaker@usf.edu
Event Information Contact Email
Fwhitaker@usf.edu
CME Credit Fall Under
10-20
Abstract Submission Deadline
Abstract guidelines
Minimally Invasive Gynecologic Surgery Course and Cadaver Lab
I agree with the terms and conditions
On