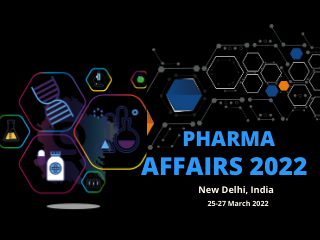 Event Description
Pharma Affairs Conference & Expo 2022 2021 New Delhi India
Pharma Affairs Conference & Expo (PACE) 2022 is a healthcare conference & exhibition. It provides researchers, scientists and delegates with the right forum to share their knowledge through industry and academia and to discuss new technologies worldwide.
It is a three-day event and trade show that is specially organised and incorporates a wide variety of scientific disciplines vital to the discovery and production of new medicines and therapies.
It will showcase pharma products, machines, devices and technology to buyers from all over the world including major markets like USA, China, Germany, France, India etc. This event will undoubtedly provide a great opportunity to develop and grow your business by meeting active suppliers looking for collaboration with the Indian Pharma and Healthcare market. Meeting potential investors and business associates will be a win-win situation for both parties.
We are inviting you to be a part of this mega pharma conference exhibition and trade fair if you work in the pharmaceutical or healthcare industry and want to learn about the transformation of companies.
Conference covers trending topics including Next Gen Pharma Technology, Mobile Health, Patient-Centric Era, Pharma Industry & COVID-19, Pharmacology, New Toxicology Studies, Clinical Pharmacology, Drug vs Therapy Area, Biosimilar, Nanotechnology Trends, Drug Regulations, Drug Regulatory Affairs: FDA/EMEA/Health Canada/SFDA/KFDA/ANVISA/TGA, Drug Approvals and Databases, Women in Pharma, Strategy to Execution, Counterfeit Drugs & Drug Addiction, Low Drug Approval Count, Lab to Market, Drug Delivery and Reaction, Drug Testing Technology, Drug discovery and development, Orphan drugs, Drug patenting, Pricing and Supply Chain, Issue in expanding and Drug launch, Manufacturing & Distribution, Pharmaceutical R&D Investment, Hidden Costs of Pharmaceutical Procurement, Pharmaceutical Trade and Forecast, Drug Pricing Laws, Pricing Strategies for Rare Disease, Political Factors Against Pricing, Harnessing AI for Drug Pricing Research, Synthetic vs Biologics, Regulatory Framework, Tech Transfer & Outsourcing API, Best practice in API, Clinical Trials Trends impact on developing countries, Generic vs Branded Drug, Remote Monitoring During Pandemic, Risk Assessment Management in Clinical Trials, Protocol Development & Optimization, Technology Transfer, Prescription Drug & OTC Sales by Technology, Oncology: Biggest Segment of Pharma industry, Digital Marketing & Automation in Pharma, Sustainability on Plate, Need of Contract Packagers (CPs), Smart Packaging Mania, Drug Packaging & Biologic, Tracking Technology, New Solution in Primary & Secondary Packaging and so on.
Why to Exhibit/Sponsor PharmaAffairs2022?
•         Promote your product and solution with our tailor-made offerings designed for you
•         Internal and external networking opportunities
•         Engage with the audience and increase your return customers' number
•         Gain access to key industry decision-makers and with potential partners
•         Get multiple benefits: Sponsorship + Exhibition + Privileged Access + Awards
•         Opportunity to explore the technology showcase
•         Stay up to date with academic and industry trends
•         Industry's top tier speakers
•         Value for money with unlimited access to research reports and whitepapers
•         Get the chance to funded for your upcoming project
•         Be part of our competition to check your product or projects worthiness
•         B2B sessions, product launch and MoU ceremony
•         Put your business/products/services front and centre
•         Gain brand recognition and promote your products and credibility
•         Your Organisation name and logo will potentially be used during these outreach campaigns
•         Generate strong leads & Deliver great ROI
Visit the mentioned link for more Details:
Conference Visitor Registration
For registration/tickets purchase:
https://kentroninsight.com/conferences/pharmaaffairs/registration
Event Types (Select all that apply)
Medical Conference
Tradeshows – Expo
Event Registration Contact Email
conference@kentroninsight.com
Event Information Contact Email
conference@kentroninsight.com
Exhibits
Its varies according to booth (contact on conference@kentroninsight.com)
,
Pharma Affairs Conference & Expo (PACE) 2022 is a healthcare conference & exhibition. It provides researchers, scientists and delegates with the right
Abstract Submission Deadline
Abstract guidelines
Pharma Affairs Conference & Expo 2022 2021 New Delhi India