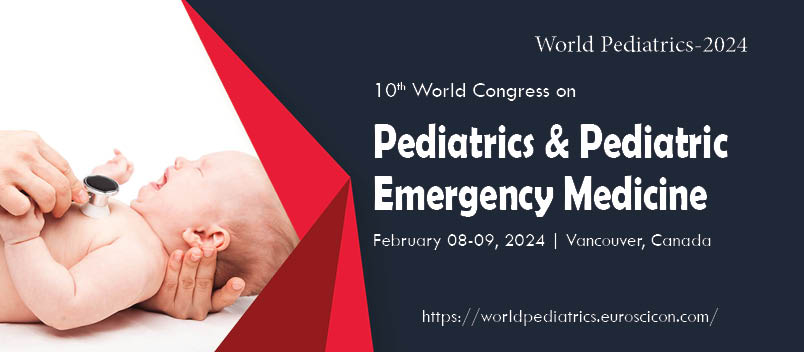 Event Description
10th World Congress on Pediatrics & Pediatric Emergency Medicine 2023 Vancouver Canada
Explore the latest advancements and innovations in Pediatrics and Pediatric Emergency Medicine. Join us at the 10th World Congress on Pediatrics & Pediatric Emergency Medicine for a transformative experience, contributing to the progress and excellence in pediatric healthcare.

 
International Collaboration:
Facilitate networking and collaboration among leading experts, researchers, and practitioners from around the globe.
Scientific Sessions:
Engage in in-depth discussions on cutting-edge research through a diverse range of scientific sessions.
Workshops and Training:
Participate in hands-on workshops and training sessions led by renowned professionals in the field.
Abstract Submissions:
Share your research findings by submitting abstracts for presentation at the conference.
Exhibition:
Explore the latest products and services in the pediatric and emergency medicine industry through an interactive exhibition.
Continuing Medical Education (CME):
Earn CME credits by attending informative sessions and staying abreast of the latest developments in pediatric medicine.
Location Highlights:
Experience the vibrant city of Vancouver, known for its stunning landscapes, diverse culture, and world-class amenities.
For registration/tickets purchase:
https://worldpediatrics.euroscicon.com/registration
Event Types (Select all that apply)
Medical Convention
Medical Meeting
Medical Conference
Medical Seminar
Medical Educational Courses
Medical Cruise
Event Registration Contact Email
pediatricmeet@unityconferences.com
Event Information Contact Email
pediatricmeet@unityconferences.com
CME Credit Fall Under
10-20
Abstract Submission Deadline
Abstract guidelines
Abstracts must be submitted on the understanding that they have not been presented elsewhere (except in the form of a thesis) and are not currently under consideration by another conference. The submitting speaker should ensure that the abstract publication has been approved by all other co-authors.
Modes of Presentation
Oral presentation
Poster presentation
Language
All abstracts must be written exclusively in English (including the title, abstract text, author names and affiliations).
Correspondence
Please provide the following:
Presenting author's contact details including full mailing address, office phone number, email address and fax number
Name(s) of presenting author and co-authors: first name(s) or initials of first name(s), family name (e.g. Jason Wong or J. Wong)
Affiliation details of all authors: Department, institution/hospital, city, state (if relevant), country
I agree with the terms and conditions
On