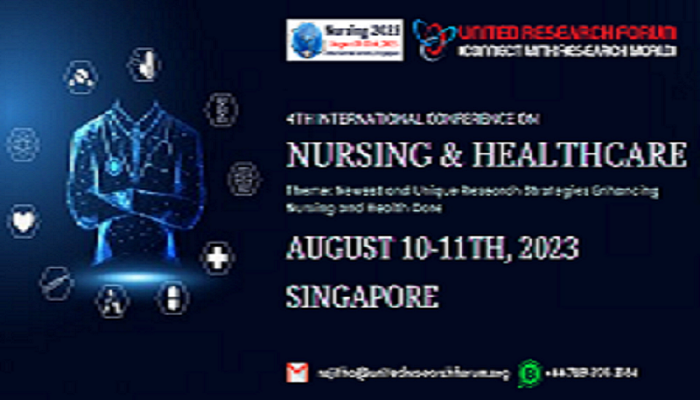 Event Description
4th International Conference on Nursing and Healthcare 2023 Rome Italy
4th International Conference on Nursing and Healthcare is scheduled on 10-11 August 2023 is to discuss the Health issue that is now the most controversial and life-threatening. Great scientists, academics, authors, young researchers, and business representatives are invited to present at this Conference. Nursing 2023 will focus on a wide range of exciting sessions and tracks that will cover key ideas in heart and acute Healthcare. Nursing Congress 2023 is expected to provide varied and on-going training that will retain knowledgeable experts close by regarding the problems affecting the anticipation, discovery, and treatment of Health contamination.
The conversations will be extremely productive and beneficial for the participants. We need you to contribute your research and experience. We truly hope that this conference will discuss a range of topics and offer general knowledge about heart disease prevention measures.
Call for Abstracts: We look forward to welcoming new research papers from the Scientific Sessions. You can present an Oral/Poster/Recorded Video.
BENEFITS:
Conference Proceedings & Publication:  After the conference, all accepted conference abstracts/papers will be published with ISBN and DOI in "United Research Forum" conference proceedings. In addition, all participants will be encouraged to submit an extended full manuscript in "Journal of Integrated Health with ISSN 2583-5386 ", URF Publishers with great discount.
We are very happy to have your presence at Nursing Congress 2023.
For registration/tickets purchase:
https://nursinghealthforum.com/registration.php
Event Types (Select all that apply)
Medical Meeting
Medical Conference
Medical Seminar
Online Medical Event
Event Registration Contact Email
rajitha.urforum@gmail.com
Event Information Contact Email
rajitha.urforum@gmail.com
Exhibits
4th International Conference on Nursing and Healthcare 2023 Rome Italy
Abstract Submission Deadline
Abstract guidelines
4th International Conference on Nursing and Healthcare 2023 Rome Italy
I agree with the terms and conditions
On