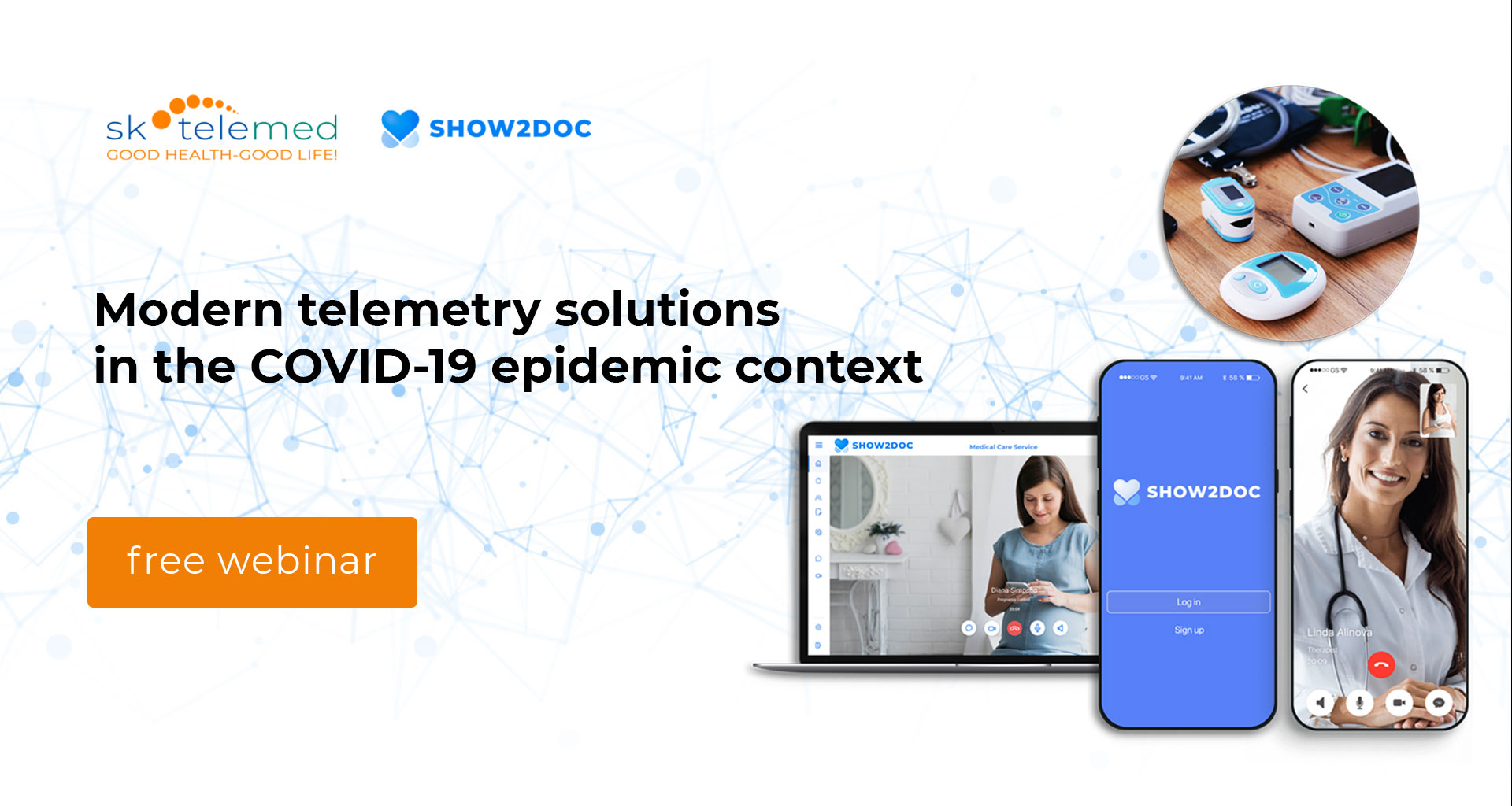 Event Description
Modern telemetry solutions in the СOVID-19 epidemic context 2020 Vienna Austria
Webinar Program
The use of modern telemetry systems for the public and private health sector to accompany and diagnose patients with chronic diseases in epidemics and the post-epidemic period.
Cloud-based systems for maintaining and collecting data on medical research results within the framework of telemedical platforms.
Demonstration of the Telehealth medical diagnostic system IDIS2GO in action.
Demonstration of Show2Doc Doctor-to-Patient monitoring and communication platform in action.
Questions and answers.
Webinar Organizer
SK-Telemed GmbH (Austria) is a digital healthcare provider. Our solutions connect physicians, patients and partners via modern software with the highest data protection standards in the medical field to collect, transfer and analyse patient data using AI and Big Data. SK-Telemed GmbH has passed the audits and is now certified according to ISO 9001:2015 and 13485:2016.
Speakers
Catherine Chuchylina — PhD, export director, co-owner of SK-Telemed GmbH, (Austria)
Sergiy Kutsevlyak — PhD in Medicine, master's degree in state administration (Ukraine)
About SHOW2DOC
SHOW2DOC — Doctor-Patient communication and monitoring platform. It is a brand new level of a patient care. Show2Doc contains chat, video calls, a calendar with the task manager and sends reports from connected devices directly to the patient's medical card for doctor's analysis.
Being an open platform, Show2Doc can connect various medical devices. The basic set includes: a personal fetal doppler, portable ECG, infrared thermometer, urine analyzer, digital scales, electronic blood pressure monitor, glucometer, etc.
Target patients groups of SHOW2DOC:
– Patients with chronic diseases
– Elderly people and people who take care of them
– Pregnant women
- Patients in rural area
-VIP-Clients
BENEFITS FOR CLINIC AND DOCTOR:
– Increase audience of potential clients by using online technologies.
– Remote monitoring reduces disease complications and emergency visits to hospital and overall readmissions costs, reducing inpatient hospital stay.
– Profit from additional medical services.
– Profit from patient medical devices sale/rent.
– Treatment plan scheduling, assigning and adjustment.
– Doctor daily task manager with calendar and status notification, and others.
BENEFITS FOR PATIENT:
– Convenient communication channel with doctor from any part of the world: chat, video calls.
– Prevention of deviations in the early stages – quality and longer life.
– Task manager calendar from doctor.
– Notifications, reminders.
– Personal electronic health record in one place.
– Observation diary to fix all changes automatic/manually, downloading pictures.
– Wide range of personal medical devices with an automatic reports to doctor, and others.
Continuous care with portable medical devices for the
home use.
Date: 28/10/2020 at 13:00 (UTC +2 Austria time)
Duration: ~90 minutes
Language: English
Format: Online zoom platform, participation is free, after prior registration.
For registration/tickets purchase:
https://www.sk-telemed.co.at/webinars/show2doc-en-28-10-2020-2/
Event Types (Select all that apply)
Event Registration Contact Email
office@sk-telemed.co.at
Event Information Contact Email
office@sk-telemed.co.at
Exhibits
Modern telemetry solutions in the СOVID-19 epidemic context 2020 Vienna Austria
Abstract Submission Deadline
Abstract guidelines
Modern telemetry solutions in the СOVID-19 epidemic context 2020 Vienna Austria
We invite you to join the free online webinar "Modern telemetry solutions in the СOVID-19 context" in English.