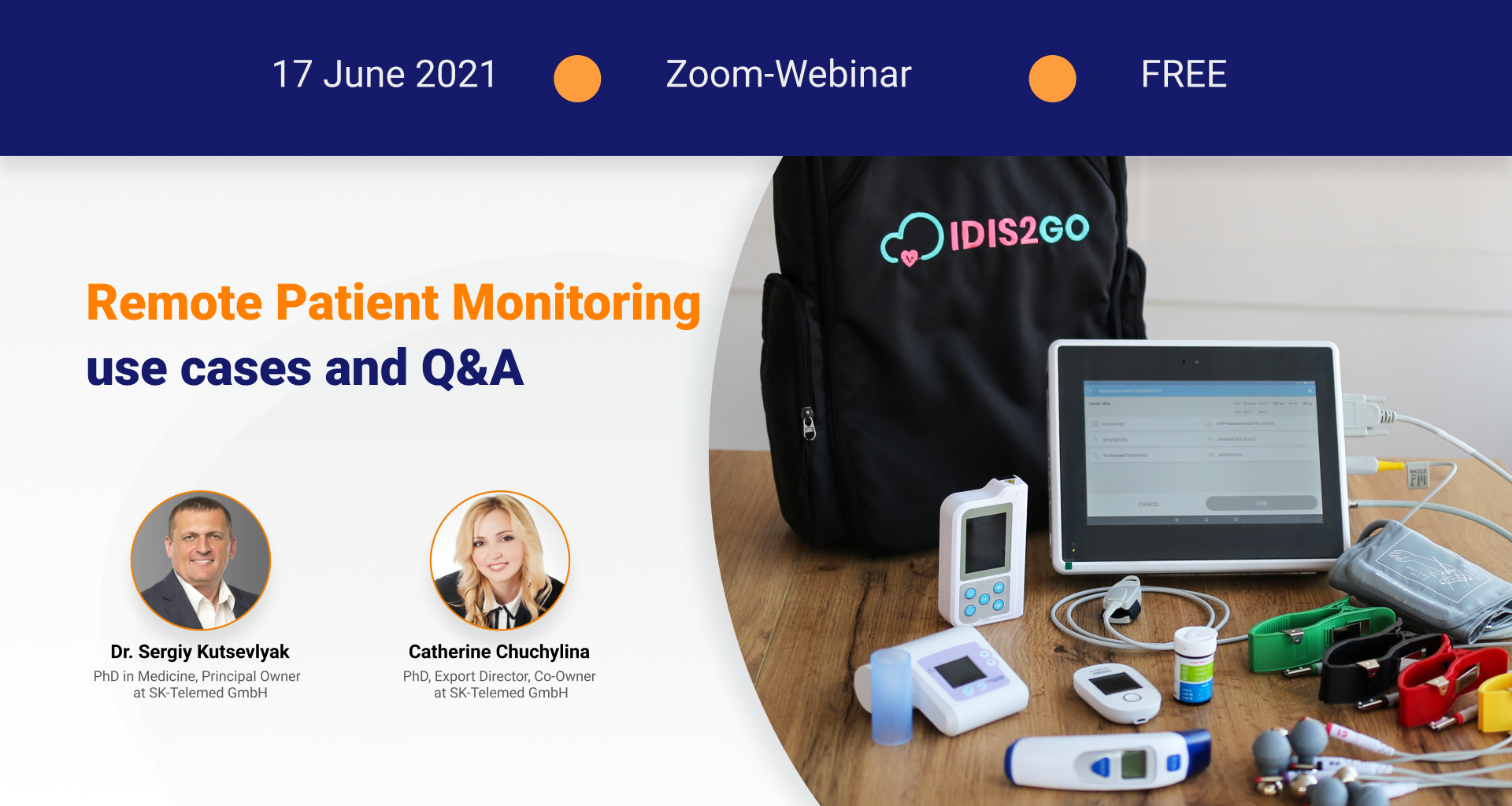 Event Description
Remote Patient Monitoring use cases and Q&A 2021 Vienna Austria
AGENDA
Telemedicine upgrade for health IT infrastructure: remote diagnostic, home diagnostic, RPM, medication management.
RPM value for COVID-19, post-vactination and chronic patients during pandemic.
Home care remote instruments during COVID-19 pandemic.
Where is the value added Telehealth System and 12-channels ECG with data transfers.
IDIS2GO RPM: cooperation with public health and private sectors.
Questions and answers.

The number of participants is limited.
ORGANIZER
SK-Telemed GmbH (Austria) is a digital healthcare provider. Our solutions connect physicians, patients and partners via modern software with the highest data protection standards in the medical field to collect, transfer and analyse patient data using AI and Big Data. SK-Telemed GmbH has passed the audits and is now certified according to ISO 9001:2015 and 13485:2016.
SPEAKERS:
Catherine Chuchylina
PhD, export director, co-owner at SK-Telemed GmbH (Austria)
Sergiy Kutsevlyak
PhD in Medicine, master's degree in state administration (Ukraine)
For registration/tickets purchase:
https://www.sk-telemed.co.at/webinars/rpm-user-cases-and-q-a/
Event Types (Select all that apply)
Medical Convention
Medical Seminar
Online Medical Event
Event Registration Contact Email
office@sk-telemed.co.at
Event Information Contact Email
office@sk-telemed.co.at
Abstract Submission Deadline
Abstract guidelines
Remote Patient Monitoring, or RPM, helps to deliver higher-quality care to more patients with lower costs and higher efficiency. We invite you to join the free online webinar 'Remote Patient Monitoring use cases and Q&A' in English.