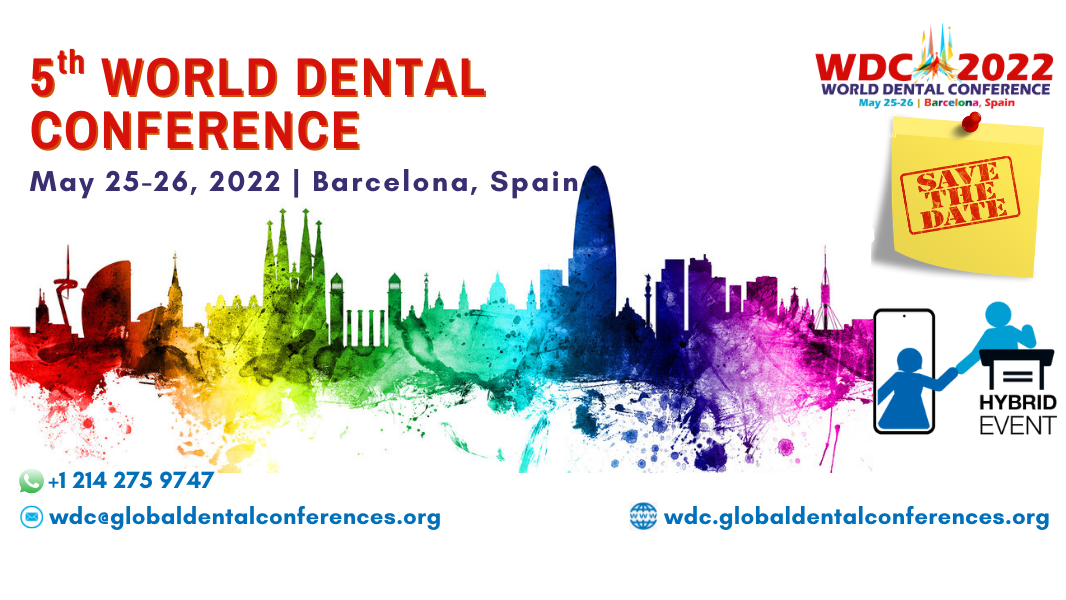 Event Description
5th World Dental Conference (WDC 2022) 2022 Barcelona Spain
Come celebrate the 5th World Dental Conference (WDC 2022) in Hotel SB BCN Events, Barcelona, Spain from May 25-26, 2022. The career advancement conference of the year for dental health professionals.
Are you ready to take the next phase in your dental career? To really inspire, nurture and empower yourself and your dental team? Then look no further – join us for the WDC 2022
Preparations are already being made by the conference committee and our professional team to reinvent this year's conference to bring you a memorable experience, featuring top-notch continuing education program, exciting networking and social gatherings for you, the attendee!
It'll be quite a celebration, consistent with our 2022 World Dental Conference theme: Celebrating Life and Dental Health!
This year's scientific program will bring you the best of the best that dental education has to offer. Our world-renowned clinical educators are teaching the latest leading-edge concepts in dental and oral health areas. In addition, this year we'll have more prospects for a complete dental team than ever before. All our scientific sessions are designed to help you create a more fruitful and rewarding 2022.
Young Dentist Session, focusing on new dentists who have experienced huge success early in their career. This is an ideal opportunity to focus on issues that concern you most as a new dentist, learn from leaders in dental education, as well as network with your peers.
And Barcelona is a fantastic place to take a break from your routine work while you recharge with new ideas during the Holiday Season. Explore the city's amazingly varied culture or take a day trip to visit nearby scenic trails of the colorful parks, architectural marvels, and the beachside nightclubs. Come solo, with a friend, with the dental team or bring the whole family!
We hope to see you all in Barcelona this May for a great Celebration of Life and Dental Health!
For registration/tickets purchase:
https://wdc.globaldentalconferences.org/registration
Event Types (Select all that apply)
Event Registration Contact Email
wdc@globaldentalconferences.org
Event Information Contact Email
wdc@globaldentalconferences.org
CME Credit Fall Under
10-20
Abstract Submission Deadline
Abstract guidelines
5th World Dental Conference (WDC 2022) 2022 Barcelona Spain