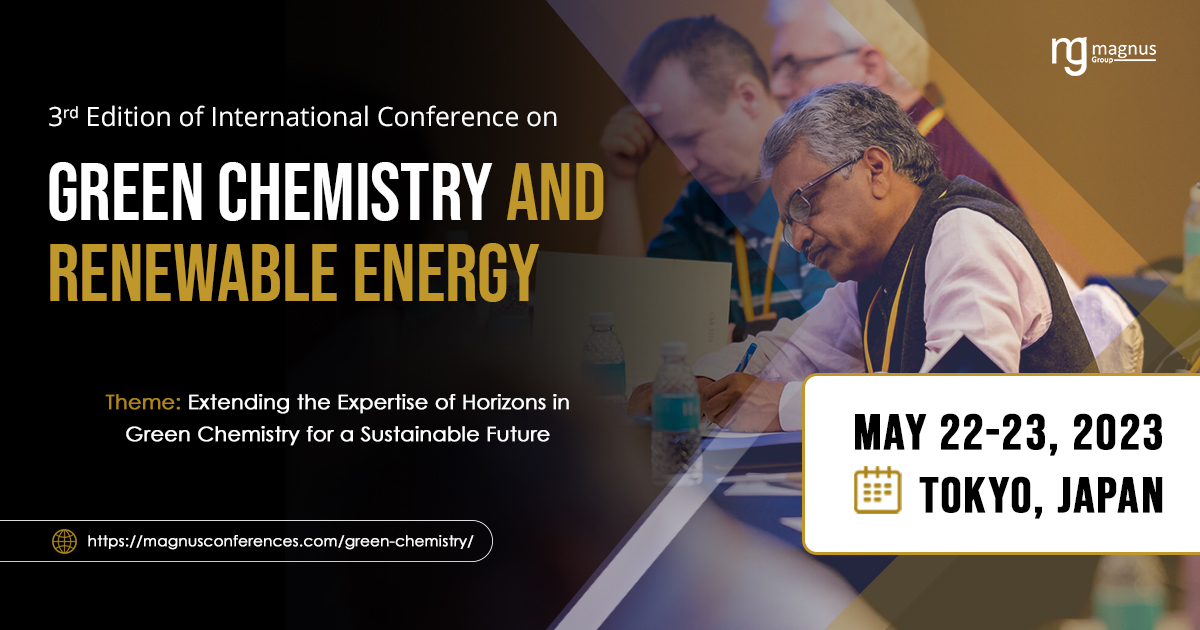 Event Description
3rd Edition of International Conference on Green Chemistry and Renewable Energy 2022 Tokyo Japan
After prodigious success of "3rd Edition of International Conference on Green Chemistry and Renewable Energy" (Green Chemistry 2023) which is scheduled as a hybrid event during May 22-23, 2023 at Tokyo, Japan.
The conference will focus on the theme "Extending the Expertise of Horizons in Green Chemistry for a Sustainable Future".
The Green Chemistry conference provides an overview of current research and cutting-edge technologies that affect human society's long-term viability and the optimal operation of planetary settings. The vibrant presence of capable, young, and intelligent researchers, corporate delegations, and talented technology communities fosters an exciting environment where growth is pursued for the benefit of all. To provide a top interdisciplinary venue for academics, practitioners, and educators to present and discuss the latest cutting-edge solutions in Green Chemistry and Renewable Energy. Leading specialists, Researchers, Academicians, Green Chemists, Chemical Engineers from around the world will present their most recent findings, with plenty of time for discussion both during and between sessions. The poster sessions will serve as a focal point for in-depth discussions of current initiatives and novel ideas.
Contact Email: green-chemistry@magnusconference.com 
Phone: +1 (702) 988 2320
WhatsApp: +1(440) 941-2981
Dates: May 22-23, 2023
Venue:  ANA Crowne Plaza Narita 68,
                Horinouchi, Narita-Shi,
                Chiba, 286-0107, Tokyo, Japan
Website: https://magnusconferences.com/green-chemistry/
Abstract submission: https://magnusconferences.com/green-chemistry/submit-abstract
Registration: https://magnusconferences.com/green-chemistry/register


Social Media Link:
Facebook: https://www.facebook.com/GreenChemistryConference  
Twitter: https://twitter.com/GreenChemEvent  


Organiser:
Magnus Group LLC - https://www.magnusgroup.org/
Conference Manager:  Ruby Dawson
Organiser Address: Magnus Group LLC
                                   150 South Wacker Drive #2400
                                   Chicago, IL 60606, USA



Upcoming Green Chemistry Conferences: Green Chemistry Conferences 2023 | Renewable Energy Conferences 2023 | Green Engineering Events | Catalysis and Green Chemistry Congress | Renewable Energy Conferences  | Green & Sustainable Chemistry Conferences 2023 | Green Chemistry Conferences 2023 | Green Chemistry and Technology Conference |Sustainable Chemistry Conferences | Environmental Chemistry Conferences | Green Chemistry, Engineering and Technology | Green Catalysis Conference | Green Engineering Conference | Green Chemistry and Environment |Environmental chemistry Conferences   |  Green Chemistry and Renewable Energy Conferences 2023 | Green Chemistry and Renewable Energy Conference | Green Chemistry Conference 2023 | Green Chemistry  Congress | Green Chemistry 2023 | Green Chemistry and Renewable Energy Congress 2023 | Environmental Chemistry Conferences | Environmental Chemistry Conferences 2023 | Green Chemistry Congress | Green Catalysis conferences 2023 | International Green Chemistry Conference | Green Chemistry Conference Japan | Tokyo Green Catalysis Conferences | Green Chemistry Hybrid Conferences | Green Chemistry Online Conference | Green Chemistry Workshops | Green & Sustainable Chemistry symposiums | Climate Change & Global Warming Meetings | International Green Nanotechnology Meetings | World Renewable Energy Conferences | Green Chemistry Webinars | Top Green Chemistry Events

 
Event Types (Select all that apply)
Event Information Contact Email
green-chemistry@magnusconference.com
Abstract Submission Deadline
Abstract guidelines
How ECM Can Detect Allergies/Sensitivities And Clear Them With The ECM Desensitization Technique 2022 Middletown United States